Microsoft Dynamics 365 Urdu Hindi Bootcamp 2021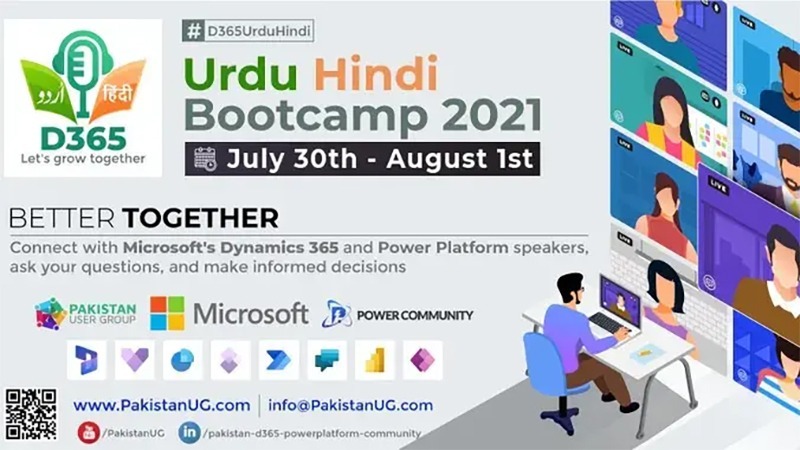 D365 Urdu Hindi Bootcamp is a recurring event targeting to promote upskilling in Microsoft technologies and aims to eliminate the language barriers to learning.
The event hosts a diverse array of Industry-leading International speakers covering the greatest and the latest in Microsoft products and platforms such as;
Dynamics 365 ERP apps
Dynamics 365 CRM apps
Power Platform
Azure & IoT,
Artificial Intelligence and beyond.
This community-led event welcomes participants from across the globe to join free, and we offer content in English, Urdu, and Hindi languages.
Check out event details with sessions and speakers from here
https://pakistanug.com/urdu-hindi-bootcamp-2021/
Event will be LIVE on YouTube, Facebook, and LinkedIn
𝗟𝗶𝗻𝗸𝗲𝗜𝗻 https://www.linkedin.com/posts/pakistanug_d365-urdu-hindi-bootcamp-is-a-recurring-event-activity-6825603379134377984-khCO
𝗣𝗮𝗸𝗶𝘀𝘁𝗮𝗻 𝗨𝗚 𝗬𝗼𝘂𝗧𝘂𝗯𝗲 https://www.youtube.com/watch?v=P4ovjVm9hG0
𝗣𝗼𝘄𝗲𝗿 𝗖𝗼𝗺𝗺𝘂𝗻𝗶𝘁𝘆 𝗬𝗼𝘂𝗧𝘂𝗯𝗲 https://www.youtube.com/watch?v=yf67TiexZ8A
𝗙𝗮𝗰𝗲𝗯𝗼𝗼𝗸 https://www.facebook.com/103385231983571/posts/127597086229052/