The Pakistan User Group is back, and we're thrilled to announce the Pakistan User Group Summit 2023! 🚀
Get ready for an extraordinary event featuring a thrilling hackathon and networking extravaganza. It's going to be a knowledge-packed journey filled with insights, sharing, and incredible opportunities.
📍 NASTP Karachi Main Shahra e faisal, Faisal Cantonment
📆 8-9 December, 2023
Friday to Saturday
Join our community as a sponsor today and become an integral part of our mission. Your support empowers us to create meaningful experiences and make a lasting impact.
Faisal Fareed
Founder of Pakistan User Group
Imperium Dynamics
Fellow Team Member
Muhammad Atif + Umair Siddiqui + Arafat Tahsin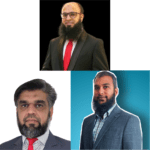 Faisal Fareed + Adeel Ahmed + Muhammad Umer
Dona Sarkar
Keynote Speaker
Wajahat Mirza
Technical Architect, Consultant and Trainer at Inferifi
Mazik Global
Sponsor Of Pakistan UG Summit
M.Mustajab & Faisal Fareed
Founder of Pakistan User Group
Copilot and AI Extensibility at Microsoft
CO Founder of Pakistan User Group
CO Founder of Pakistan User Group
CO Founder of Pakistan User Group
Senior Solution Architect of GuruGroup
Senior Manager, EY Australia & Microsoft AI MVP
VP – Head Of Pakistan Operationst of Illumina
Technical Architect, Consultant and Trainer at Inferifi
NASTP Karachi Main Shahra e faisal, Faisal Cantonment